AR Metallizing products certified recyclable by ATICELCA®
The sustainability of packaging materials and products is one of the most important criteria that drive consumer's choice. We are proud to offer brands the opportunity to reduce their ecological footprint and gain market share by addressing consumer concerns and offering sustainable solutions.
AR Metallizing's Brand line METIVO®
AR Metallizing's METIVO® (= Metallized Innovations) product line is a special range of metallized papers and boards used for food packaging. Our products offer superior functionality and excellent performance for a variety of direct and indirect food contact applications. The METIVO® range is a sustainable alternative to unrecyclable food packaging materials. As well as being highly functional, the METIVO® range offers the metallized looks that are often the preferred choice for brands and consumers.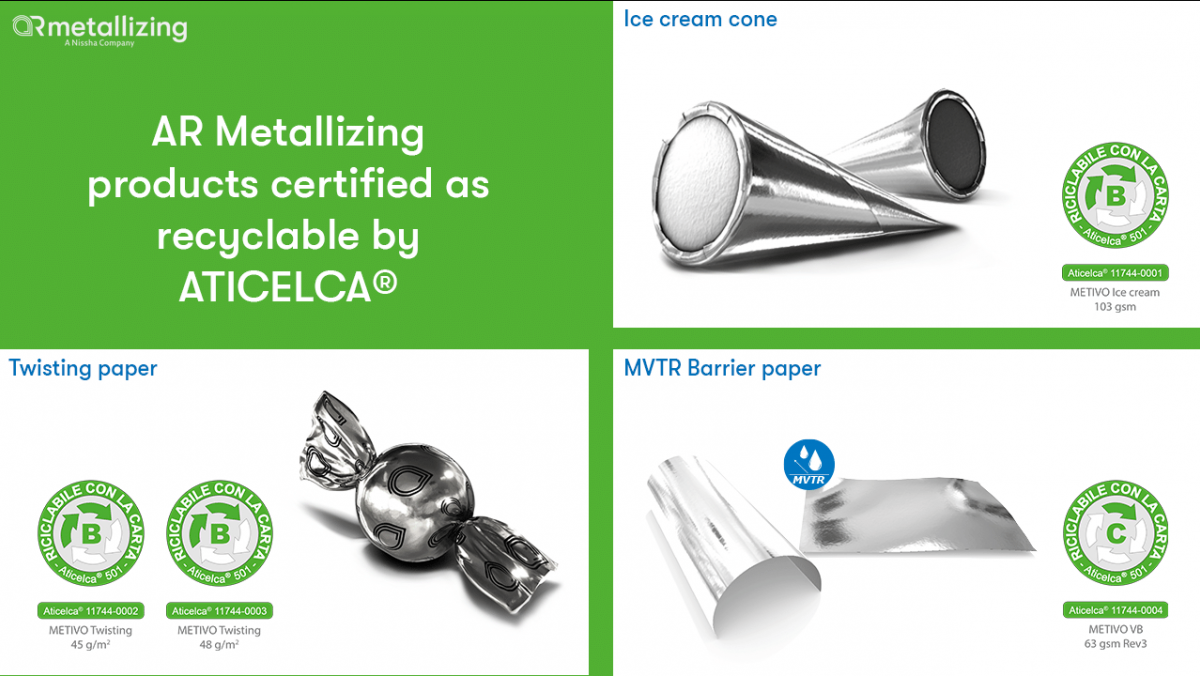 The recyclablility of paper and the ATICELCA® 501 test

ATICELCA® is an Italian network that brings together paper industry experts and operators. The association's ATICELCA® 501/19 system was developed in order to evaluate the recyclability level of cellulose-based packaging products, labels and bags.

According to the ATICELCA® 501 test method there are 5 different levels of materials and products recyclability with paper. Today, ATICELCA® has certified our MVTR barrier paper METIVO® VB with level C (ATICELCA® 11744- 0004). Our METIVO© Ice Cream Cone Wrap received level B (ATICELCA® 11744- 0001) and both METIVO® Twisting Papers with grammage 45 and 48 g/m2 received a Level B evaluation (ATICELCA® 11744-0002, respectively 11744-0003). METIVO® Ice Cream Cone Wrap received a level B evaluation.

AR Metallizing's METIVO® brand line provides a number of branding opportunities and is optimized for converting processes and machinery.